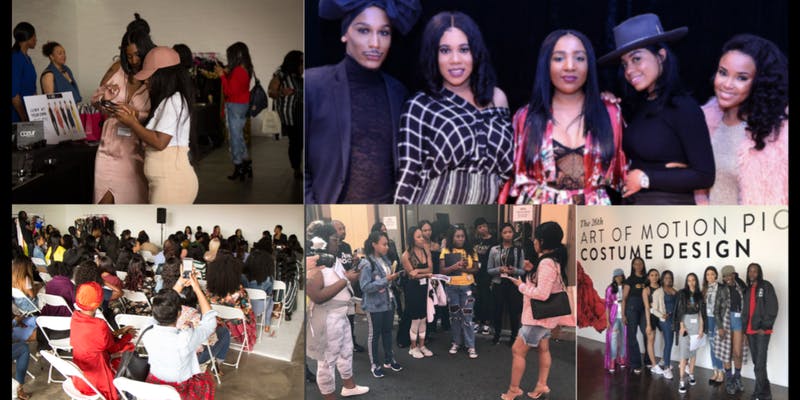 LA Fashion Retreat and Awards 2019
Thank you for your interest in the Los Angeles Fashion Retreat 2019! This 3 day event will be a once in a lifetime experience offering you an in person introduction to the lifestyle of a Fashionpreneur!
I am excited to bring you with me for a spectacular weekend of networking, learning and developing your label. Caution, this is a NO FLUFF ZONE! This event isn't like anything you've seen before! We will not sell you dreams or unattainable action!
We are purposely keeping this retreat intimate to assure each attendee leaves with more than needed to grow their fashion business. No matter where you are in your fashionpreneur journey, this retreat is for you! 
Please review the following details regarding the retreat fully. I will see you in Los Angeles!
Sincerely,
Jessica Williams, Founder and CEO
Accommodations
Many attendees will be traveling from out of town. Most hotels in the 90019 zip code are very affordable! Want to room with another attendee to save money? No worries! We will connect you with other "out of towners" within our Facebook group!
Itinerary
Thursday, March 14, 2019
The Garment District Tour with NICHOLE LYNEL/8:00am-3:00pm – Lunch will be provided.
PRIVATE CLIENT ACCESS & VIP Guests
The Los Angeles Garment District is home to over 3,000 fabric wholesalers, garment manufacturers and showrooms! This once in a lifetime experience will offer navigation through the garment district with our experienced fashion buyers and manufacturers. This tour is reserved for our Fashionpreneur Academy 12 month Private Clients & VIP Guests. Visit TheFashionpreneurAcademy.com to learn more about 1 on 1 Private Client Coaching.
Tour Visits Includes:
-Clothing Wholesalers
-Fabric Wholesalers
-Notion Wholesalers
-Manufacturing Factory Visit
Fix my Fashion Life: Speed Coaching and Brainstorming Session 6:00pm-9:00pm
We will kickoff the retreat with speed coaching with our Fashionprenuer Academy Specialist! That's right! We will break into groups and discuss your fashion business goals! You will be able to network with the other attendees and gear up for tomorrow's classes an workshops! This portion of the retreat is essential to a successful weekend!
Friday, March 15, 2019
Fashionpreneur Lectures & Workshops/ 9:00am-5:30pm
Enjoy a jam packed day with industry experts as they assist you with fashion business growth! We will be sharing our guest Fashionpreneur experts soon! Trust me, you don't want to miss this!
Classes Include:
How to make money in your sleep with Hello Barbie
Manufacturing like a Pro with Suuchi Ramesh
How to secure investors and grants as a Fashionpreneur with Tammira Lucas
Styling for Profit Workshop with Kelsey Ashley
Where are they now? Alumni Panel with Amanda, Dom and Jermika!
Brand Ambassadorships and how to Collab with April Divah Styles
AND MORE!
Bonus: Fashionprenuer Mogul Kit- you will receive a packet with a full listing of all of our tour stops (private clients only), manufacturers, vendor contacts, marketing planner and more. This kit will also give you a step by step guide of how to approach the manufacturers and wholesalers.
Saturday, March 16, 2019
The Fashionpreneur Awards Gala/ 6PM- 10PM
We will be hosting our 1st annual Fashionpreneur Awards, honoring our Fashionpreneur Academy clients that are making strides within this industry! We will also be honoring a very special Fashionpreneur of the year that you will be excited to meet! This year's Honoree is not only a successful fashion business boss but has broken barriers as an style influencer, designer and collaborator for one of the most successful brands to date! We will reveal our Honoree soon! Enjoy small bites, excellence and celebration of minorities within creative fields! Pack your gown or tux because this is a black tie affair!
ALL TIMES ARE SUBJECT TO ALTER HOWEVER IT IS UNLIKELY. WE WILL SEND GALA HOURS SOON!
FAQS:
Are payment plan options available?
We are not accepting any payment plan options for this event. All payments must be made in full.
I am not a 12 month private client, can I still attend the garment district tour?
Yes, you are able to attend as a VIP.
Can I customize a package and choose which portions of the retreat I want to attend?
We are not able to customize any attendee experiences outside of what is already available. Attendees are able to attend the 3 Day Experience or the Fashionpreneur Awards only.
Can I bring a friend?
All attendees must register for the Retreat individually. No plus ones that are not registered attendees will be granted access.
What's the refund policy?
All registration is non-refundable.